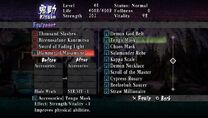 Accessories are special items that your character can equip. Some are bought from merchants, others are found by re-battling bosses and completing Caves of Evil. Some can only be found after being able to break white barriers, which is after completing Momohime and Kisuke's Final Acts (referred to below as post-game), and fighting their old enemy bosses again.
Accessories give different types of bonuses, the most common ones give bonuses to strength and vitality.
This is the list of accessories known so far.
Notes
[
]