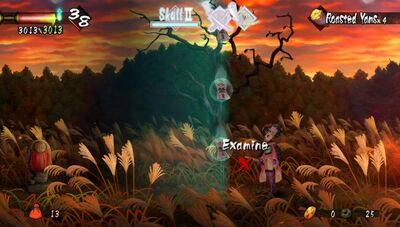 Barriers
are colored walls that will block the player's path unless the player has a certain Demon Blade--a special storyline blade received from defeating a
boss
.
In order to advance to the end of the current act, the player must beat the boss of that act and receive the Demon Blade they hold. Each new Demon Blade will allow the player to break a new barrier type.
The player is not required to have the specific Demon Blade equipped to break the barrier, they just have to carry it in their inventory.
The order of the barriers players can break are: Red, Orange, Yellow, Green, Light Blue, Blue, Purple, and White[1]
Caves of Evil
Edit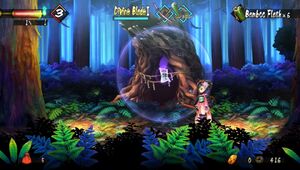 Caves of Evil[2]. are special locations that are all over Japan. They are seen as dying, hollow trees with Demon Blade barriers blocking the opening. Caves will give various prizes like Accessories, and a couple of the White Caves will reward the player with a Blade.
Each Cave will contain difficult enemies, swarms of enemies, and even multiple versions of bosses previously fought or even new ones. 
This section will cover each Cave, its title, its enemies, and prizes[3].
↑

You will need to beat both characters' storylines in order to break white barriers.

↑ Enemy Lairs in the Wii Version
↑

Prizes aren't always the same; If the Lair gives a blade as a reward, you might receive an accessory if you defeat it a second time.
Community content is available under
CC-BY-SA
unless otherwise noted.