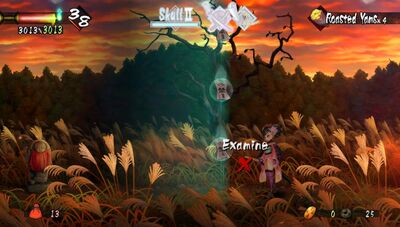 Barriers are colored walls that will block the player's path unless the player has a certain Demon Blade--a special storyline blade received from defeating a boss.
In order to advance to the end of the current act, the player must beat the boss of that act and receive the Demon Blade they hold. Each new Demon Blade will allow the player to break a new barrier type.
The player is not required to have the specific Demon Blade equipped to break the barrier, they just have to carry it in their inventory.
The order of the barriers players can break are: Red, Orange, Yellow, Green, Light Blue, Blue, Purple, and White[1]
Caves of Evil
[
]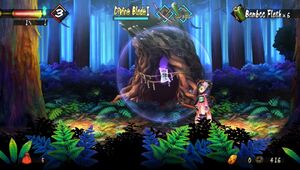 Caves of Evil[2] are special locations that are all over Japan. They are seen as dying, hollow trees with Demon Blade barriers blocking the opening. Caves will give various prizes like Accessories, and a couple of the White Caves will reward the player with a Blade.
Each Cave will contain difficult enemies, swarms of enemies, and even multiple versions of bosses previously fought or even new ones. 
This section will cover each Cave, its title, its enemies, and prizes[3].
Province
Title (Wii)
Title (Vita)
Enemies
Prize(s)
Recommeded Level
Musashi
100 Armed Monks
Trial of a Hundred Monks
10 Monks at a

time, 100 in total.

Chainmail
9
Yamashiro
100 Incarnations

of Shadowy Ninja

100 Incarnations

of a Hundred Shadows

10 Ninjas at a

time, 100 in total.

Beezlebub Saucer
9
Province
Title (Wii)
Title (Vita)
Enemies
Prize(s)
Recommeded Level
Owari
God of Pestilence
Furball and Wooly Eyeballs
Cypress Rosary
16
Province
Title (Wii)
Title (Vita)
Enemies
Prize(s)
Recommeded Level
Totomi
Mountain Kagura Dance,

the Storm of Tengu

Storm of

the Kagura Tengu

Many waves of

Blue and White Tengus

Golden Hammer
23
Province
Title (Wii)
Title (Vita)
Enemies
Prize(s)
Recommeded Level
Mino
Toad of Yoro Falls
Many waves of small and big Ogamas
Amulet of Ise
29
Province
Title (Wii)
Title (Vita)
Enemies
Prize(s)
Recommeded Level
Mikawa
Seven Samurai
Seven Samurais
Yamato Nostrum
36
Province
Title (Wii)
Title (Vita)
Enemies
Prize(s)
Recommeded Level
Hida
Snow Woman,

Oiran Procession

Procession

of the Snow Demons

Several waves of Snow Women
Wolfsbane
42
Province
Title (Wii)
Title (Vita)
Enemies
Prize(s)
Recommeded Level
Sagami
Courage in

the Ghostly Hour

Valor in

the Witching Hour

Three blue monks

, one furball

Triangle
47
Iga
Ozaru Stealth Army
Assualt of the

Elite Ozaru Ninjas

Four Kurozaru Ninjas
Boots of Sneaking
49
Province
Title (Wii)
Title (Vita)
Enemies
Prize(s)
Recommeded Level
Kai
Wildlife Caricature
Frolicking Animals
Many waves of

Boars and Pheasants

Preta Saucer
60
Yamato
The Scheming

Yagyuu Clan

Treachery of

the Yagyuu Clan

Many waves of

Jonin and Yukinojyo

Prayers of

the Damned Blade

57
Ise
Giant Centipede

of the Suzuka Pass

Giant Centipede

of Suzuka Bridge

Two giant Centipedes
Blade of

Absolute Truth

64
Suruga
Rising Dragon,

Lying Dragon

Dragons of

Heaven and Earth

Two Dragon Gods
Sword of

Rejuvenation

71
Omi
Lair of the Oni
Hundread Deaths

of the Demon Army

Many waves of

small and large Oni

Sword of Corruption
78
Shinano
Ghost of

the Battle Field

Battlefield

of the Damned

Many waves of

Gun Soldiers,

Kite Ninjas,

Ochimushas, and

Chigurui Bishamon

Toyama Elixir
85
Izu
Total Pandemonium
Night of

Absolute Chaos

Every Enemy

Lair set-up then Kisuke

& Momohime

Thunderous Bangle
92
Notes
[
]