I like you humans, so let me give you a warning!
"This article contains spoilers! Venture onwards at your risk."
Summary
[
]
Area: Sagami Rokkoku Kenzan, Kamakura Cemetery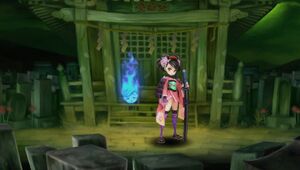 Awakening at the cemetery, Momohime remembers vaguely being cut in two and questions if she is in the afterlife. Searching for guidance, she meets a sinister monk believing her to be someone named "Jinkuro," but she replies that he must be mistaking her for someone. She later finds a monk named Rankai. He tells her to worry not as he already forced Jinkuro's soul out of her body. After speaking with him, Momohime finds a familiar green soul, Jinkuro. He explains that as she got in his way in taking the body of her husband-to-be, Yukinojo, and now he is forced to use her body. Jinkuro quickly reclaims her body, and Momohime finds herself to be in shock. After Jinkuro tells Momohime to obey him for the time being, he uses her body to defeat a Blue Monk. Once the Blue Monk is defeated, Jinkuro finds that Momohime's soul was stolen by the monks. Knowing that his borrowed body would become useless if anything happens to the girl's soul, he wants to dispatch right away, but waits for his servant Kongiku. After Kongiku arrives and provides him with a Muramasa Mask, they set off to Yoshiwara to rescue Momohime's soul.
| Icon | Name | Dialogue (Wii) | Dialogue (Vita) |
| --- | --- | --- | --- |
| | Momohime | Oh, I feel dizzy... What a strange, dreary place... Is this the netherworld? I thought I got ripped apart, but I don't have any wounds or injuries. How odd... I remember Yukinojyo was being attacked... I tried saving him, but... I wonder where am I? What is this place? I'd better find someone to talk to... | Ah, I feel dizzy... What a strange, silent place this is... I wonder if this is the netherworld. I thought that I had been cut in half from shoulder to waist, but for some reason I am still in one piece without a single injury. I remember falling to the ground after trying to protect Yukinojo from an attempted assault in front of the castle's main gate, but... ...Still, I wonder where I am. If this truly is the afterlife, I'd better ask someone for guidance so that I don't lose my way. |
| | Sinister Monk | Hello Jinkuro. Holy barriers will block your way. I will see that your crimes don't go unpunished! | Jinkuro... The entire country as been sealed so there is no place for you to run. You depraved blasphemer, I will punish you on behalf of the Lord Buddha. |
| | Momohime | Huh?? Jinkuro?? I'm Momohime. | I-I am Momohime, from the Kagami family of the Noushuu province. You must be mistaking me for someone else. |
| | Rankai | If you are Momohime, then Jinkuro's Soul must have left your body. | Hmm, it appears that it went as expected and his soul has left your body. Come, young lady. He won't be able to harm you once you pass the ward and into Hakone. |
| | Jinkuro's Soul | I am Jinkuro's Soul. I have been forced out of your body. | My skills must've failed me and my soul was forced out of your body. That damned priest must've interfered somehow. |
| | Momohime | Hmm... I've heard your voice before... Wait! I know! You attacked Yukinojyo | ... That awful voice... I will never forget it! You must be the scoundrel who attacked Yukinojo that night...! |
| | Jinkuro's Soul | That's right. With just one cut, I can possess anyone with my Oboro Soul Transfer Art. I'm going to retake your body now. If you resist me, I'll send you to Hell! | That's right. That attack was a secret form of the Oboro sword style, the Soul Transfer. It allows me to possess the body of whoever I strike with it. I claim your body for my own. Give it up to me now, or you can burn in Hell alongside me. |
| | Momohime | This feels like a dream. I can see my body... but something is strange! What happened to me? | Oh no, this must be a dream... I see myself standing right in front of me. What in the world is happening...? |
| | Momohime Jinkuro | One Body, One Soul. That's the way of the universe. I drove out your Soul and I now possess your body. I wanted to possess Yukinojyo, but you interferred@ So now, you will do as I command! | A body can only contain a single soul... That's the order of all things in nature. When my soul took over your body, your soul got forced out. I intended to take possession of Yukinojo's body, but because you got in the way I now have to live as a stupid little girl. I have no sympathy for you. |
| | Blue Monk | Ah! Jinkuro! You cannot escape me! I will have my revenge on you Jinkuro! Even if it means I end up in Hell! | There is no escaping me, Jinkuro... I have debased myself thus for the sake of vengeance. Though I can be cast into the eternal fires of Hell as punishment, I will have my revenge... |
| | Momohime Jinkuro | Oh no! Where is Momohime's Soul? Did one of the monks take it during the fight? This body could die if any harm comes to her Soul. I should pursue them now, but Kongiku is late. It is past the agreed time. I always forget that you're not human. It's about time you arrived, Kongiku. | ...Damn it all, where is Momohime's soul?! That idiot Rankai must've taken it while I was distracted by the fight with that monk. Since I was unable to complete the transfer, if something happens to Momohime's soul, this body will wither and die. I have to keep tabs on her. I should go chase them down right now, but I have to wait for Kongiku to show up. She was supposed to be here already. Your ability to disguise yourself so perfectly never ceases to amaze me. Anyways, it's about time you got here, Kongiku. |
| | Kongiku | The shortest routes were closed off by barriers. I had to go the long way around. I went to Etchu-Echigo from Sagano. Then Hida. Then Shinshu by the Nomugei Pass... | My sincerest apologies. I had to take a rather circuitous route to get here due to the number of wards that have been erected everywhere. I couldn't access the main road from Sagano, so then I had to go farther north to Ecchu and Echigo, then cross the Nomugi Ridge from Hizen to Shinshu, and then-- |
| | Momohime Jinkuro | Enough. You always have too much to say. Did you bring what we discussed? | Gah! That's enough@ You always insist on babbling without end. Did you bring the thing I asked you about? |
| | Kongiku | This Okina Mask holds the spirit of the Swordsmith Senji Muramasa of Seishu. | This mask is said to contain the soul of Muramasa Senji, the renowned swordsmith from the Seishu province. |
| | Momohime Jinkuro | I need a quality Demon Blade forged by Senji Muramasa to properly show my Oboro Style. | Without a sword forged by the insane genius Muramasa, I'll never be able to show the true power of the Oboro sword style. I need one of his blades right now. |
| | Kongiku | Give me the Souls stored in your blade. Their spire will give Muramasa strength. | Now, feed to it the souls of those you have dispatched with your blade. The fires of their hatred will allow Master Muramasa to temper the steel of his blades. |
| | Momohime Jinkuro | Then let me cut down foes without mercy. I want to see his forge burn brightly. | Hell, if that's all he needs, I'll be happy to oblige. In fact, I'll probably just kill anyone unfortunate enough to come within reach of my sword. |
| | Kongiku | May Muramasa create many blades for you! | Doing so would certainly allow Master Muramasa to forge a great many blades for you. |
| | Kitsune | A Demon Balde has a terrible effect on its wielder. It causes great bloodlust. | These swords are referred to as Demon Blades for a reason, They will possess our soul and drive you to mercilessly slay the guilty and innocent alike. |
| | Momohime Jinkuro | With Oboro Style, I can control such a weapon without being controlled myself. And if it ever breaks, it will drink up blood and be restored in its sheath. | The Oboro style is based on the ability to control the demonic aura of a blade without becoming enthralled. I hardly need the warning of a talking rat like you. No matter how badly damaged it is, sheathing it will let the blade repair itself and reawaken its bloodlust. It's exactly the kind of weapon I need. |
| | White Kitsune | That mask was kept in a special place. She took a big risk bringing it here. You know she did this only for you? | If the other kitsune found out that we removed the mask from the confines of its shrine, milady would be severely punished. She took a number of risks solely for your sake, Master Jinkuro. Please do not forget that. |
| | Momohime Jinkuro | The monks laid their nets to trap me. I'll cut through them with my Muramasa. I have to go now. While I was waiting for you, a struggle has started over at the graveyard. A monk named Rankai interrupted my possession of this body and took off with Momohime's Soul. He's going to Edo through Hakone. Find him! If Momohime's Soul is harmed, I will die. | Those cursed monks put up barriers to keep me from getting away, but with this Muramasa blade, I should have no problems cutting my way through them. ...At any rate, I need to get moving. Something came up while I was waiting for you to make your way to the shrine here. A monk named Rankai, who chased me all the way from Tokaido, overcame my Soul Transfer technique and took off with Momohime's spirit, this body's original soul. Based on what I overheard, I'm guessing he's going through Hakone on his way to Edo. Find him, Kongiku. If anything happens to Momohime's soul. I'm dead. |
| | Kongiku | I will not let that happen. Believe me. | I will not allow that to come to pass. You can count on that. |
Summary
[
]
Area: Musashi New Yoshiwara, Emon Hill
Once in Yoshiwara, confronting Rankai, Jinkuro learns that the souls of girls being stolen and taken captive by a Wanyudo that is revealed to have obtained Momohime's soul from Rankai. After defeating the Youkai, Jinkuro retrieves Momohime's soul. He seems to be a bit kinder to her, despite his threat to seal her soul away if she does not behave herself.
| Icon | Name | Dialogue (Wii) | Dialogue (Vita) |
| --- | --- | --- | --- |
| | Name | Insert Wii dialogue here | Insert Vita dialogue |
Summary
[
]
Write summary here
| Icon | Name | Dialogue (Wii) | Dialogue (Vita) |
| --- | --- | --- | --- |
| | Name | Insert Wii dialogue here | Insert Vita dialogue |
Summary
[
]
Write summary here
| Icon | Name | Dialogue (Wii) | Dialogue (Vita) |
| --- | --- | --- | --- |
| | Name | Insert Wii dialogue here | Insert Vita dialogue |
Summary
[
]
Write summary here
| Icon | Name | Dialogue (Wii) | Dialogue (Vita) |
| --- | --- | --- | --- |
| | Name | Insert Wii dialogue here | Insert Vita dialogue |
Summary
[
]
Write summary here
| Icon | Name | Dialogue (Wii) | Dialogue (Vita) |
| --- | --- | --- | --- |
| | Name | Insert Wii dialogue here | Insert Vita dialogue |
Summary
[
]
Area: Write Summary here
| Icon | Name | Dialogue (Wii) | Dialogue (Vita) |
| --- | --- | --- | --- |
| | Name | Insert Wii dialogue here | Insert Vita dialogue |
Summary
[
]
Write summary here
| Icon | Name | Dialogue (Wii) | Dialogue (Vita) |
| --- | --- | --- | --- |
| | Name | Insert Wii dialogue here | Insert Vita dialogue |
Summary
[
]
Write summary here
| Icon | Name | Dialogue (Wii) | Dialogue (Vita) |
| --- | --- | --- | --- |
| | Name | Insert Wii dialogue here | Insert Vita dialogue |
Summary
[
]
Write summary here
| Icon | Name | Dialogue (Wii) | Dialogue (Vita) |
| --- | --- | --- | --- |
| | Name | Insert Wii dialogue here | Insert Vita dialogue |